Could a Dash Cam Help You Obtain Compensation after an Accident?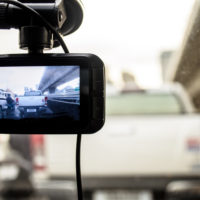 Dashboard cameras, or "dash cams" may not be a piece of technology you've ever thought you'd need installed in your car. These devices might seem more like the domain of police officers or public transit drivers, but advances in technology have made these devices more affordable for the average driver. When considering the benefits of having a dash cam, you may want to consider adding one to your vehicle.
How dash cams work
Dash cams are small cameras that are installed on a car's windshield, dashboard, or rear-view mirror. Most begin recording automatically when the driver starts the car's engine, storing footage on a memory card in the camera and recording over the oldest footage on the camera when the card becomes full. Most cameras face forward and are unable to rotate, but some come with rear-facing cameras, and high-end models can even offer a 360˚ perspective. Dash cams range in price from $50 for basic models, to $250 for more advanced devices.
How dash cam footage can be used
Currently, no American car insurance carrier offers a discount to drivers for having a dash cam. However, a number of insurers in the UK, Europe, and Asia offer a discount to customers who use a dash cam to record their drives. Even though US insurers won't offer cheaper insurance for using a dash cam, drivers can still use footage from the cameras to support their car accident claims. Most insurers will treat footage from a dash cam as they would photos or video from a cell phone when attempting to discern how a crash happened. However, drivers are rarely able to capture the moment an accident occurred with their phone's camera. A dash cam might be able to capture the moments prior to a crash, offering useful proof of how the accident occurred.
Keep in mind that the usefulness of dash cam footage can cut both ways. While dash cam footage could result in a substantial settlement or award of damages from the court if it shows that you were the victim of a crash, you may be required to produce your dash cam's footage even if it shows that you were at fault. Additionally, some models can record the speed at which a driver was traveling when a crash occurred, which can be used to show that you were partially at fault for your injuries in a crash.
For assistance in seeking damages after a crash in Southern California, contact the dedicated and effective Claremont personal injury lawyers at Blasser Law for a consultation, at 877-927-2181.