Drunk Driving Crash Takes Life of West Covina Woman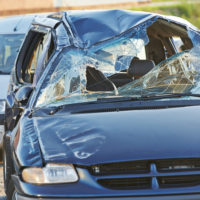 A recent accident resulted in the death of a woman who was pulling away from the scene of an accident at which she had stopped to help. The death is believed to have been caused by a drunk driver.
The 18-year-old accident victim had been driving her Nissan Sentra on the 405 near Century Boulevard in Inglewood, her boyfriend sitting in the passenger seat. The woman noticed an accident along the side of the road, which police later explained had occurred roughly 30 minutes earlier. The young woman pulled over to see if she could offer assistance to the accident victims. As she began to re-enter the freeway, her Sentra was struck by a driver whom authorities believe was under the influence of drugs or alcohol at the time of the crash. The woman was transported to Harbor-UCLA Medical Center with a severe head trauma, injuries to her spine, and a hip fracture. The woman's brain did not register any activity, and she became comatose. Unfortunately, doctors later explained to the family that there was nothing they could do to restore brain activity, and the family chose to take the woman off life support. Her boyfriend also suffered a mild brain injury, as well as multiple broken ribs.
Drunk drivers are a major threat to Southern California roadways. According to the National Safety Council, the single-largest cause of fatalities on American roads is alcohol-related crashes, estimated to be responsible for nearly 31% of all crashes. Drunk drivers can face aggravated criminal penalties for causing accidents in which someone is injured or killed. Additionally, drunk driving accident victims and their family members also have the option of filing a lawsuit against the responsible drivers, just like any other accident. In fact, while these claims often face delays while a criminal case is pending against the defendant, actions for damages against drunk drivers are typically simpler cases to win than claims against drivers who are merely negligent. Under the doctrine of per se negligence, a judge or jury can assume that the defendant acted negligently if the defendant was shown to be violating certain criminal laws at the time of an accident. In some cases, the victims may even have the right to seek punitive damages against the drunk driver, which are damages intended to punish the wrongful actor's behavior.
If you or a loved one has been injured in a drunk driving accident in the San Gabriel Valley, contact the dedicated and effective Claremont personal injury lawyers at Blasser Law for a consultation, at 877-927-2181.