Hit-and-Run Crash Takes Life of Motorcyclist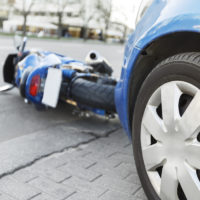 A recent Los Angeles-area accident resulted in a young motorcyclist receiving fatal injuries. After police released surveillance footage from the scene of the accident and announced a hunt for the driver who fled, the man turned himself in the following day to face felony charges.
The accident occurred at approximately 6:45 am on Wednesday, August 24 in the town of Reseda. The 19-year-old motorcyclist was heading to work. As he drove near the intersection of Vanowen Street and Tampa Avenue, a white pickup truck turned left in front of the motorcycle. Unfortunately, the turn occurred too late for the motorcyclist to avoid hitting the truck. The motorcycle collided with the passenger's side of the truck, and the rider died at the scene of the collision. The truck continued driving. The following day, the police released surveillance footage from the scene of the accident to the media in hopes that a member of the public would be able to identify the driver. Ultimately, the driver turned himself in to the Los Angeles Police Department on Thursday afternoon to face felony hit-and-run charges.
Leaving the scene of even a minor accident is a crime in the state of California. Where a driver leaves the scene of an accident without providing identifying information, and that accident caused only property damage, that driver could be charged with a misdemeanor and face up to $1000 in penalties and six months behind bars. When an accident results in injuries, fleeing drivers face even more harsh penalties. Even if the only person injured in the crash is the occupant of the car running from the scene, that driver can be charged with a felony for leaving the scene. Those convicted of felony hit-and-run can face up to $10,000 in fines and up to four years in jail.
Being injured in a hit-and-run accident can leave you feeling scared about how you'll cover your bills and whether you'll receive full compensation for your resulting expenses. As evidenced here, local law enforcement often has a number of resources it can use to track down drivers who fled the scene, and allow you the opportunity to pursue claims against them for the injuries you suffered. Even if the negligent driver cannot be found, your attorney can help you receive a fair settlement through your Uninsured Motorist insurance coverage.
If you or someone you love has been injured in a motorcycle or car accident in the Los Angeles area, seek the money damages you're owed for those injuries, including medical expenses, pain and suffering, and lost wages, by contacting the experienced and compassionate Claremont personal injury attorneys at Blasser Law for a consultation, at 877-927-2181.