What is a Pre-Divorce Planning Session: How Does it Help?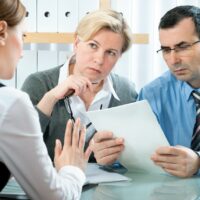 If you are anticipating a divorce in your future, it's important to be prepared. The first step in proper preparation is making a plan. Read on below for a discussion of the pre-divorce planning session, an early meeting between you and your attorney during which you will generate a plan for your divorce case. If you have questions about a pending divorce or family law matter in Southern California, call an experienced Claremont divorce lawyer for advice and representation.
Pre-Divorce Planning vs. Initial Consultation
Many prospective litigants confuse the pre-divorce planning session with the "initial consultation." An initial consultation with your attorney is your first meeting with the lawyer, during which you'll discuss your case in general and learn about the specifics of the lawyer's practice and representation. The initial consultation happens before you actually retain the lawyer; the pre-divorce planning session happens once you've hired that lawyer.
The initial consultation operates both as a way for you to receive some initial advice as well as a means for you to evaluate the prospective attorney. You'll learn about the lawyer's practice, their fee structure, and their initial thoughts on the case. At the end of the meeting, you might or might not choose to retain the lawyer's services. If you do choose to retain that family law attorney, then your next scheduled meeting could be the pre-divorce planning session.
What Happens at the Pre-Divorce Planning Session?
A pre-divorce planning session is a meeting during which you and your attorney craft a game plan for your entire divorce. You'll discuss the divorce process, develop a strategy for approaching the divorce and protecting the assets that matter to you, and address a number of important questions to ask early and keep in mind throughout the process. The meeting should, ideally, occur before you actually file for divorce so that you can hit the ground running once the divorce is filed.
At your pre-divorce planning session, your attorney will discuss several important issues with you, including the following:
Assets and liabilities, including community property and separate property
The tax implications of divorce
Children and child custody arrangements
Whether to pursue alternative dispute resolution venues such as mediation or arbitration
How divorce will affect your health insurance, life insurance, annuities, retirement plans and other financial instruments
Which assets are most important to you and which are most important to your spouse
Your financial situation during the divorce
Your living arrangements and familial situation during the divorce
How to ensure all assets are identified, and whether you suspect your spouse may be hiding assets
What to do about joint bank accounts, business ownership, and other financial entanglements before, during, and after the divorce
How much you'll likely receive or pay in child support and/or spousal support
The pre-divorce planning session is meant to give you an overview of the issues to come, how best to deal with them, and address your specific concerns. The session is all the more helpful when you come to the meeting prepared, which means, at a minimum:
Writing down a list of your questions or specific concerns
Bringing a list of agreements relating to your marriage (premarital/prenuptial agreements, post-nuptial agreements, etc.)
Having an idea of your income and your spouse's income
Identifying the assets that matter most to you and/or are likely to be a point of contention in your divorce
Do I Need a Pre-Divorce Planning Session?
The pre-divorce planning session allows you and your attorney to draw out a roadmap for your divorce case. If your divorce involves significant assets, a contentious spouse, complex assets (retirement accounts, business ownership, etc.), or special issues (celebrity or public officials, international issues, etc.), then a planning session is absolutely vital.
Even if your divorce involves few assets and few special issues, however, the planning session gives you an edge in the proceedings. You and your attorney will begin the divorce case better prepared for the issues likely to arise, giving you an advantage in negotiation and crafting legal arguments. You'll also know what to expect, which gives you more peace of mind throughout the process. Truly, anyone can benefit from a pre-divorce planning session. Talk to your family law attorney about your case to discuss whether and how to hold a pre-planning session for your case.
Call a knowledgeable California family law attorney at Blasser Law for assistance with a dispute over child custody, property division, divorce, or any other California family law matter. The experienced and effective Claremont divorce legal team at Blasser Law is ready to assist clients with any family law concerns in the San Gabriel Valley or Los Angeles County. Contact our family law office at 877-927-2181.