Living Together after Filing for Divorce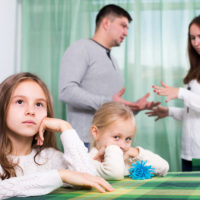 Prior to 2017, married couples in California were required to be living "separate and apart" to establish an intent to separate. Since that time, California law has changed to allow for couples to establish a separation date for the purpose of dividing their marital property that is acquired before either or both spouses moves out of the marital home. This means that, when necessary (and possible), couples in the process of divorcing may remain in the same home while still establishing an end-of-marriage date. If you need help on the question of what date you and your spouse should use as the date your marriage ended, make sure to discuss the issue with a skilled California family law attorney.
It's increasingly common to hear of couples who are separated or in the process of divorcing who still share a home. Couples may choose to live together if they're struggling to find the money to afford two separate homes, live in an area with a challenging real estate market, or are simply trying to make their children's lives easier at a difficult time. That said, living together after a breakup can be extremely challenging without consideration on both sides.
Getting divorced but still live together? Here are some tips:
Split up financial and child care responsibilities fairly. Once your relationship has decayed to the point of seeking a divorce, you may have developed feelings of resentment towards your spouse's willingness to share in the costs of operating the household, or the time commitment of raising your child. Rather than simply hoping your spouse takes of their share, have a conversation where you make your expectations clear about when each of you will be responsible for caring for your child, and which household expenses you'll each be responsible for paying.
Give one another room to breathe. Try to establish areas of the home where each of you can expect to have privacy, and, if necessary, times when you can each use common areas without having to share the space.
Be respectful. The best way to make the process of continuing to live with an ex after a breakup work is by being as respectful of your former partner as possible, making it more likely that they will return this favor. While you may have the right to begin dating new people, having loud and personal phone conversations with them or bringing them home would probably be needlessly hurtful to your former spouse. Likewise, avoid spiteful behavior towards your former partner or picking arguments over inconsequential issues, and make sure to do your fair share of household maintenance.
If you need professional and seasoned legal help with a California family law issue, contact the Claremont family law attorneys at Blasser Law for a free consultation at 877-927-2181.