Southern California Woman Seeks Back Child Support almost 50 Years after Divorce—and Gets It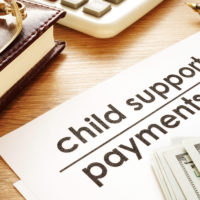 Decades after her divorce was finalized, a California mother sought the child support she had expected but never received—and she got it. Learn more about the case below, and contact a Southern California child support attorney with any questions about back child support.
After First Check Bounces, Father Makes No Further Attempts at Paying Child Support
Toni Anderson was the mother of a three-year-old daughter when she divorced her husband, Donald Lenhart, in 1970. A family court in San Diego issued an order awarding Anderson $210 per month for the first 30 months, and $160 per month until her daughter, Lane, turned 21. When Anderson tried to cash the first child support check she received, it bounced. The next check never came. Anderson's ex-husband had basically disappeared; she learned that he had moved to Canada, and he made no further attempts to provide financial support for his daughter.
Anderson spent the following decades working hard to support herself and her daughter alone, even resorting to food stamps when times were tight. Anderson explained in an interview on Good Morning America, "I struggled a lot. I lived from paycheck to paycheck and I had to take a couple jobs, and it was a detriment to my daughter because I really wasn't there for her." Anderson's dedication to providing a good life for her daughter paid off, with funding for Lane's college education and international travel provided by Anderson's hard work. But it was nevertheless a struggle, and Anderson, now 74, has been left wondering how she will be able to afford retirement.
50 Years After Divorce, Mom Succeeds in Getting the Payment She's Owed
In 2018, Anderson was startled awake in the middle of the night by realizing that there was no time limit on seeking back child support in California. She still had a valid legal claim for the money she was owed by her ex-husband, which amounted to $170,000 when accounting for interest and fees. Anderson then took the decades-old family court order awarding child support down to the court, found out where her ex now lived, and served him with an order to appear in court. To her surprise, he appeared, and they reached a settlement agreement of $153,090.
Anderson's daughter, Lane, described an outpouring on social media from mothers who have been left in a similar position and were inspired by Anderson's story. "Since mom put this all out in the world, there have been comment after comment from people that are dealing with the same thing," she said. "The overall consensus is that there are a lot of people out there, women, that are dealing with this and they don't know what to do."
If you're a California resident who is owed back child support, get help fighting for the money you deserve by contacting the knowledgeable and effective San Gabriel Valley child support attorneys at Blasser Law for a free consultation in Claremont at 877-927-2181.