Navigating the Complexities of Gray Divorce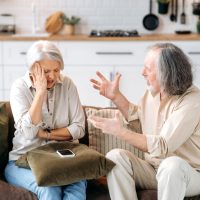 As divorce attorneys based in Claremont, California, Blasser Law understands the unique intricacies of late-life divorces or, as they're commonly known, "gray divorces." A gray divorce, generally involving couples over 50 years old, often presents a different set of complexities compared to those experienced by younger couples. This is primarily due to longer marital duration, more intertwined finances, and higher accumulated wealth. Our experience in this area makes us a reliable guide through these challenges.
Understanding Gray Divorce
Gray divorce is becoming more common, and it's important to understand why. Couples who have been married for decades might decide to divorce for several reasons: empty nest syndrome after children move out, significant life changes, or simply growing apart over the years. Whatever the reason, it's essential to remember that you have the right to pursue happiness at any age, and sometimes, that means seeking a divorce.
Unique Challenges of Gray Divorce
Gray divorce can bring unique challenges. These may include substantial marital assets to divide, complex retirement plans, pension distributions, and potential health considerations. This is why you need attorneys experienced in this area to protect your rights and interests.
Division of Assets in Gray Divorce
California is a community property state, which means all assets and debts acquired during the marriage are usually split equally. However, with gray divorces, the situation may be complicated by assets such as businesses, investments, and real estate holdings, and longer marriages often involve more extensive shared assets.
Furthermore, retirement funds, often a primary point of concern in gray divorces, are also considered community property. Therefore, how these funds get divided between you and your spouse is a matter of significant concern and requires expert legal navigation.
Spousal Support and Gray Divorce
In gray divorces, spousal support can take center stage, especially if one spouse has been out of the workforce for a while. While younger divorcing couples may have time to rebuild their careers and personal wealth, older individuals might not have that luxury. California law considers several factors when determining spousal support, including the length of the marriage, the standard of living during the marriage, and the age and health of each spouse.
Healthcare and Insurance Considerations
As people age, healthcare needs often increase, making health insurance a significant consideration in gray divorces. If one spouse has been receiving health insurance through the other spouse's plan, they might need to find new coverage after the divorce. Moreover, if long-term care insurance policies are in place, these need to be carefully reviewed during divorce proceedings.
Protecting Your Future
At Blasser Law, our goal is to help you protect your future. We understand the emotional and financial complexities that come with a gray divorce. We approach every client's case with sensitivity, compassion, and a detailed understanding of California's divorce laws.
Get the Right Legal Support
Going through a gray divorce can feel daunting, but it doesn't have to be. You can navigate this challenging period confidently with the right legal partner by your side. Our experienced team at Blasser Law is here to provide the support and advice you need.
Whether it's complex asset division, spousal support, or healthcare considerations, we are prepared to represent your interests and ensure that your divorce proceedings are as fair and smooth as possible.
At Blasser Law, we don't just see you as a client; we see you as a person deserving of respect, dignity, and peace of mind. So, if you're considering a gray divorce or are already in the process, let us help you step into your new chapter of life with confidence. Contact us today to schedule a consultation. We're here to support and guide you every step of the way.