Pedestrian Deaths on the Rise – Distracted Driving Likely to Blame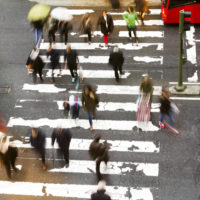 After decades of declining death rates on US roads, national statistics have shown a sharp rise in roadway fatalities since 2014. While no category has gone unaffected, deaths among pedestrians and other non-vehicle occupants have risen at particularly alarming rates. Below, learn more about this disturbing trend and the theories on why it is occurring, and contact a seasoned San Gabriel Valley personal injury lawyer if you have questions about your rights after a pedestrian accident.
Non-vehicle occupant fatalities climb
2016 witnessed another rise in roadway fatality rates, with 5.6% more deaths on the road than in 2015. In total, the National Highway Traffic Safety Administration reports that 37,461 people were killed on US roads in 2016. Deaths among pedestrians rose 9% last year to 5,987, which is the highest number of pedestrian deaths in a single year since 1990. Non-vehicle occupants—a category encompassing pedestrians, motorcyclists, and bicyclists—have been dying at a faster rate than others on the road in recent years. Since 2014, pedestrian deaths have risen 22%, and bicycle and motorcyclist deaths have risen by about 15%. In contrast, the overall rate of roadway fatalities has risen by 14.4%.
Distractions believed to be underrepresented as a cause of deaths
The rise in pedestrian and other non-vehicle occupant deaths is seen by many as an indication that mobile phone distractions are taking a toll. Drivers who are typing a text or reading an email behind the wheel tend to look up only briefly to scan the road. These drivers who don't take the time to survey the road carefully become more likely to miss smaller objects, such as bicycles or people on foot. Experts point to this fact as an explanation of why non-vehicle occupant deaths now account for approximately 33% of all roadway deaths, despite making up only 25% of road deaths ten years ago.
According to the NHTSA, distracted driving went down by 2.2% last year, and only 448 deaths nationwide were caused by drivers distracted by their phones. However, these numbers are seen by many experts as an underrepresentation of how many drivers are distracted by their phones on the road. The NHTSA uses state and local law enforcement data to compile its reports, so if states fail to turn over accurate police reports describing accidents, there is no way to know about the true cause of a crash. For example, only 11 states' accident report forms have a way for police to indicate that a crash was caused by a driver distracted by their phone. Even if police did have a way to note this fact, it remains difficult to know with certainty whether drivers were using their phone prior to a crash. Victims of distracted driving crashes may benefit from the help of an attorney, who can search for evidence such as surveillance footage of and eyewitnesses to a crash, to use as support for a claim of negligence against the distracted driver.
If you've been hurt in a distracted driving crash in the Los Angeles area, contact the dedicated and effective San Gabriel Valley personal injury lawyers at Blasser Law for a free evaluation of your claims, in Claremont at 877-927-2181.