The Pros and Cons of Filing For Divorce First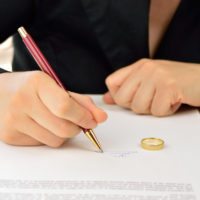 Once you realize your marriage is well and truly on the rocks, you may have reached the point of determining whether divorce is your best option. If you decide that a divorce is on the horizon, you may wonder whether it is best to be the first to file, to help ensure that you control the tone and direction of the divorce proceedings. Continue reading for a discussion of some of the pros and cons of being the first to file, and speak with our dedicated Claremont family law attorneys if you are considering divorce in Los Angeles or the San Gabriel Valley.
Advantages (Pros) of Filing First
Once you have made the decision to file for divorce, there are reasons why you may want to go ahead and file before your spouse gets the chance to do so.
Planning ahead for your expenses.Divorces can be costly procedures, both in terms of legal fees and court costs as well your eventual payout to your spouse in terms of property, assets, and support. Being the first to file means you are able to plan ahead and save money for these various expenses, and sort out your finances in an advantageous manner. Additionally, you can plan ahead and collect all of the important documents that may factor into the case, such as deeds, bank and investment account statements, life insurance policies, etc.
Controlling the timeline. If your spouse is stalling the divorce process, you can get past their stonewalling by filing first. You will start the divorce process, regardless of their preferences.
Automatic Temporary Restraining Orders. California law has a provision for automatic temporary restraining orders (ATROs). The ATROs go into effect as soon as your spouse is served with a copy of the divorce petition. The ATROs prohibit your spouse from taking your children out of state and from altering marital assets, such as moving funds around or changing life insurance policies. If you are concerned that your spouse might do one of these things, it may be worth filing first to prevent them from doing so.
You choose the location. Whoever files for divorce will determine where the divorce proceeding takes place, assuming that you both live in the same state. Additional complications arise if the spouses already live in different states. Even within the same state, if you and your spouse live in different counties, depending on your circumstances, it may be important for you to file in one county over another. For example, you may pick the county where you currently reside or where you have family whom you can stay with during the duration of divorce proceedings.
Disadvantages (Cons) of Filing First
There are some strategic reasons to consider waiting for your partner to make the first move.
Divorce ends the marriage. Divorce is a serious step, and it merits careful consideration. It may be an obvious point, but it is worth emphasizing: Do not rush to file for divorce if you are unsure. If you are still trying to work things out with your spouse, you may want to give it more time to determine if divorce is the right step. It is less likely that you will be able to reconcile once the divorce process begins.
You may owe more in fees. Because you are initiating the process, you will be responsible both for the initial filing fees and any extra attorneys' fees generated in preparing the initial documents. In California, the filing fee is $435, and your spouse will pay $435 when filing a response to that petition. Depending on the county, there may be additional court fees. This may be small in comparison to the overall divorce proceeding, but it is one disadvantage.
Giving away your strategy. If you file first, you will have to lay out your demands. Your spouse will be notified as soon as they are served. Your spouse will then have the advantage in formulating a response. Likewise, in any hearings, if you are the first to file you will likely be the first to be heard, allowing your spouse and their attorney to adjust their presentation to better counter your arguments.
Get Smart and Compassionate Advice Concerning Divorce in Claremont
If you are looking for help with a current or potential future California divorce, contact the experienced Claremont family law attorneys at Blasser Law at 877-927-2181.