Side-Impact Collisions: What You Should Know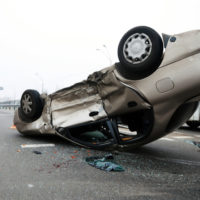 Side-impact collisions have some of the highest rates of fatality among all forms of motor vehicle accident. These crashes can leave you or your passenger badly hurt and are often the result of reckless disregard of traffic rules on behalf of the driver at fault. Read on to learn more about side-impact crashes, and speak with a knowledgeable California personal injury attorney if you've been injured in a side-impact crash.
When side-impact crashes happen
Side-impact collisions occur any time a vehicle is struck on its side, either by a vehicle facing head-on, or in a lateral collision as the result of a side-swipe accident. When vehicles crash at a 90˚ angle, these crashes are often referred to as "broadside" or "T-bone" collisions. These are the most dangerous form of side-impact collision. These crashes occur most often where cars are traveling at perpendicular directions to one another, such as at intersections or in parking lots. Side-impact crashes are responsible for about a quarter of all traffic fatalities in the US, and about a third of all traffic fatalities among children.
What makes side-impact collisions so dangerous?
There are several elements that, when present, can make side-impact collisions more dangerous for victims. When the cars involved in a broadside collision are highly disparate in size, this can cause more serious injuries for those in the smaller car. Specifically, when the car facing head-on in a T-bone crash is large and raised—think of a lifted pickup or SUV—and the vehicle being hit is a smaller, lower sedan, then the larger vehicle is more likely to hit the smaller one in the weak window portion of the car's side panel. With little coming between them and the larger vehicle, this type of collision will be more likely to injure occupants in the smaller car.
Side-impact crashes may also be the result of excessive speed. A car may notice that their light is about to turn red and increase their speed to try and make it through the light. However, if the driver misjudged their ability to make it through the intersection in time and cross-traffic has begun to move, the speeding driver might be unable to brake in time to avoid a crash.
If you would like a no-cost evaluation of your case after a side-impact collision in the San Gabriel Valley, contact the dedicated, knowledgeable, and effective Claremont personal injury attorneys at Blasser Law for a consultation, at 877-927-2181.