Study on Distracted Driving Reveals Greater Impact on Accident Rates than Previously Known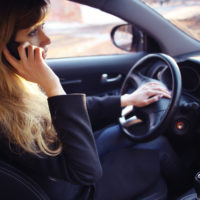 As a driver on Southern California's bustling freeways, you understand the dangers that drivers face, even when paying close attention to the road. Despite the obvious dangers of texting while driving (not to mention the laws banning any handheld phone use in California), it is not uncommon to glance at the driver next to you, only to find them with their head down, buried in their phone.
Distracted driving difficult to track
While the risks posed by drivers paying more attention to their phones than to the road in front of them seem obvious, the link between an increased risk of accident and phone use has been difficult to prove conclusively. Unless an eyewitness can testify to seeing a driver on their phone moments before an accident, there isn't always a good way to prove that the driver was distracted in the lead-up to a crash, and drivers who survive distracted driving crashes are themselves rarely willing to admit to breaking the law by causing a collision when texting behind the wheel.
App tracks driver behavior
A recently-released study has shed light on the true extent of distracted driving's effect on accident rates. The tech company Cambridge Mobile Telematics recently released a study that revealed data on phone use in the lead up to accidents. The company designed a smartphone app which offers drivers data on the safety of their driving habits by gathering information on their average speed, braking patterns, turning, and phone use while behind the wheel.
Phone use present in over half of crashes
Based on data gathered from users of the app, Cambridge Mobile concluded in its recently-released report that driver phone use increases the risk of an accident by over three times. On drives that resulted in a crash, drivers were found to have been using their phones for over two minutes on average before the collision occurred. The research also found that the rate of phone use while driving was only slightly lower in states where all handheld phone use is banned by law—a list of states which includes California. While the statistics are addressing slightly different issues, this data presents a stark contrast to statistics published by the National Highway Traffic Safety Administration. The federal safety body has long reported that only around 10% of all fatal accidents are caused by distracted driving.
If you or a loved one have been injured in a serious crash in Los Angeles, get help seeking the money to which you're entitled for your injuries, and contact the experienced, knowledgeable, and effective Claremont accident lawyers at the Blasser Law Firm for a consultation, at 877-927-2181.