Tips for Dads Going Through Divorce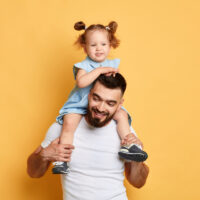 Divorces can be tough on everyone involved.  Historically, mothers were automatically favored when it came to child custody and child support.  While this presumption has been changing in recent years, it is still all-too-easy for dads to pull the short straw in divorce proceedings, leading to additional and unwarranted financial and emotional difficulties.  If you are a dad going through a divorce, it is important that you set your priorities straight and fight strongly but fairly and conscientiously for your rights.  Continue reading for a few tips for fathers going through a divorce, and contact a seasoned California child custody and child support lawyer if you have questions about a divorce or any other family law matters.
Keep records of everything
To overcome any societal presumption that as a father, you are less entitled to custody or that you should pay exorbitant amounts in child support, it is important to document everything important.  Keep records of what you buy your kids, when you see them, and interactions between yourself and your spouse.  If your spouse makes inappropriate threats, insults you on social media, goes on unwarranted shopping trips, tries to manipulate your children against you, denies you visitation, or otherwise engages in any untoward behavior before or during the divorce process, it is important that you take notes, retain relevant documents, and share them with your lawyer.  These incidents may help you when it comes time to contest custody, visitation, or support.
See your kids often
If you want to retain visitation or custody, it is important to keep regular contact with your kids throughout the divorce process.  You may find it difficult to schedule visitation and custody-sharing during the divorce if you and your spouse cannot share a room without fighting, but it is important that you make every appropriate effort to remain a part of your kids' lives.  Children benefit from having both parents involved in their lives, and the presence of both parents will also help the children ease into all of the changes a divorce will bring. 
Be on your best behavior and keep your kids out of the fight
It is easy to get caught up in the emotions surrounding divorce.  You may have strong feelings of bitterness towards your spouse, and you may be inclined to engage in petty acts of revenge.  Avoid those impulses.  Sending your ex angry texts or emails, posting vitriolic comments on social media, or bad-mouthing your spouse to your shared children will only hurt you in the long run.  If any of these behaviors are brought up in court, they will weaken your arguments for visitation or custody.  Take the high road, avoid contact with your spouse if such contact only leads to conflict, and do not involve your children in your fights.  Children will suffer more emotional harm if they are dragged into your conflicts with your ex, not to mention the damage to your legal case.
Hire a good lawyer
As soon as a divorce is on the horizon, you need to retain a seasoned and competent family law attorney.  You need to start protecting yourself, your assets, and your parental rights as soon as possible.  A knowledgeable lawyer will help you understand your options and advise you against actions that may seem appropriate in the moment but can harm you in the long run (such as moving in with a new girlfriend or taking your children away from an unstable mother without proper legal protection).
Get Help from Dedicated, Knowledgeable and Experienced Claremont Child Custody and Child Support Attorneys
For seasoned and effective legal help with a California family law matter or Los Angeles area divorce, contact the Claremont offices of Blasser Law at 909-843-6363.