What is Parental Kidnapping?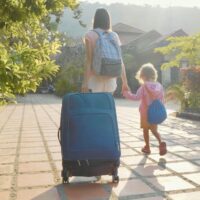 When the court issues a final divorce decree, the pronouncements in that order have the force of law. Preventing the other parent from exercising their custody or parenting time rights is a violation of the court's order, carrying the risk of serious sanctions. In more serious cases, the conduct may amount to parental abduction, which carries significant criminal penalties. Read on for an explanation of parental kidnapping in California from our experienced Claremont family law attorneys.
Non-Custodial Detainment in California
California Penal Code Section 278 criminalizes the act of maliciously taking or hiding a child in order to detain the child or conceal that child from their lawful custodian. This is known as "child abduction." PC 278 does not apply to parents who have a legal right to custody.
PC 278.5, however, applies to all persons, regardless of whether they also have a legal custody right. PC 278.5 likewise prohibits anyone from maliciously taking, hiding, or keeping a child away from someone with a lawful or visitation right. The crime is chargeable as a misdemeanor or as a felony, with punishments ranging from county jail time to up to three years in prison and a $10,000 fine. This crime is also known as interference with child custody.
To be convicted under PC 278.5, the defendant must have acted maliciously and deliberately, they must not have had a right to custody of the child at the time they acted, and they must have intended to detain or conceal the child from the rightful custodian. The child must be under the age of 18. Even if a parent has joint or sole custody, they could still be convicted under 278.5, provided the other party had legal custody or visitation rights at the time the abduction occurred.
Examples of grounds for conviction under PC 278.5 include withholding a child past the end of the parent's allotted parenting time, hiding the child when the other parent should have custody, taking the child away when the other parent has custody time, or taking a child and moving to another country without consent from the co-parent.
Exception for Imminent Harm
A person charged with non-custodial detainment can avoid conviction under PC 278.5 if they have a reasonable and good faith belief that the other parent is likely to inflict immediate bodily injury or emotional harm to the child. If a parent takes a child from the other parent when it would otherwise be illegal to do so, based on fear of imminent harm, they must do the following within a reasonable time:
Report that they took the child to the District Attorney's Office
File for custody under the Parental Kidnapping Prevention Act and Uniform Child Custody Jurisdiction Act
Keep the DA updated with contact information for the child
If you have removed your child from your co-parent's care based on fears for your child's safety, contact a California child custody attorney as soon as possible to ensure that you take all steps necessary to avoid a conviction for parental kidnapping. You should not be prosecuted for protecting your child, but you need to make sure to do it the legal way to avoid putting yourself and your child in a worse position.
California's Kidnapping Laws
PC 278 and 278.5 both concern child "abduction." Although the terms are commonly used interchangeably, "abduction" and "kidnapping" have different meanings under California law. Kidnapping is a more serious offense. Uber California law, kidnapping means:
Moving another person of any age a "substantial distance"
Without that person's consent
By use of force or fear
Deprivation of child custody, in contrast, does not require force or fear. It may even be committed with the child's consent. Kidnapping is a felony, punishable by three, five, or eight years in a California state prison. The punishment may be more severe if the kidnapping victim is a child under 14 and the kidnapper is not the child's biological parent.
If you are dealing with a co-parent acting illegally, or if you are facing other family law issues in Southern California, call a passionate California family law attorney at Blasser Law for help. The qualified and experienced Claremont divorce legal team at Blasser Law is ready to assist clients with any family law concerns in the San Gabriel Valley or Los Angeles County. Contact our family law office at 877-927-2181.