What to Know Before Attending a Family Law Court Hearing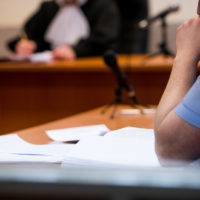 If you've never had to attend a court hearing before, going to court on a matter related to your divorce or custody dispute can feel intimidating. Aside from the intense emotions you may be feeling about the case itself and the anxiety you may be experiencing about getting a good outcome, you may be afraid of embarrassing yourself before the judge or violating a rule of court that you didn't know. Fortunately, while proper behavior before a judge is very important, it's easy to learn and follow the most critical rules of behaving like an ideal party to a family court matter. Read on to learn about what to know before you go to court on a divorce or custody dispute, and contact an experienced Southern California family lawyer for more information.
What to know:
Be on time. There is nothing that will more reliably set off a judge than a litigant who doesn't appear to court on time. Courts have very full calendars, and a slight delay in one matter could ruin their entire day. Be sure to arrive early, making sure you account for any traffic hot spots, time it will take to find parking, and courthouse security measures when calculating your commute time.
Dress appropriately and show respect. Court is no place for jeans or a t-shirt. You don't need to wear a new suit, but you should dress in a professional and clean outfit, such as you might wear to a job interview. Should the judge ask you a direct question, address him or her as "your honor" when you reply.
Don't speak unless spoken to. Parties to a lawsuit who are represented by counsel should not speak in court unless addressed directly by the judge or on the witness stand. This rule can seem easier said than done when you hear your former spouse say hurtful or patently untrue things about you in court, especially if custody of your child is on the line. However, let your lawyer do the talking; it's why you hired an expert to represent you, after all.
Stay calm and engaged. Finally, remain composed and attentive throughout the process. Keep any strong emotional reactions inside, perhaps keeping a notepad nearby so that you can get out your frustrations on paper rather than out loud. The judge will be monitoring you throughout the hearing, and credibility and esteem can be won or lost based on your apparent emotional stability and control.
If you're facing a divorce or custody dispute in the San Gabriel Valley, consult with the dedicated, knowledgeable, and effective Claremont family law attorneys at Blasser Law at 877-927-2181.