Why Everyone Should Get a Prenup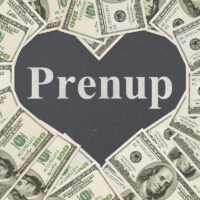 Many clients are under the impression that premarital or prenuptial agreements ("prenups") are exclusively for the rich and well-connected, those with serious money on hand before marriage seeking to protect their vast assets.  In modern times, however, prenups are a valuable tool for most couples, regardless of their wealth and regardless of their circumstances.  This includes having a prenup as a same-sex couple. You do not need to be a Kennedy to benefit from setting ground rules at the outset of a marriage that will protect you and your family in the event of a divorce, however unlikely.  Read on to learn about the benefits of signing a prenup before your Los Angeles wedding, and contact a seasoned California prenuptial agreement and family lawyer if you have questions about a prenup, a divorce, or any other family law matters.
Anyone with any premarital assets can and should protect those assets
A prenup, at a bare minimum, will list an inventory of your assets and those of your spouse that each will keep as separate property should you divorce.  You do not need to have three family homes and a multi-million dollar business to benefit from a prenup.  If you have any personal or business assets that exist before marriage, a prenup can protect those assets from being reachable in a California divorce.   
Business assets, in particular, can become a complicated mess if they become part of a divorce; what portion of your business should belong to your spouse?  For the sake of ultimate fairness, the answer is that anything you owned before the marriage should remain your property in the event of a divorce.  A prenup can ensure that this happens.  Moreover, you can identify how future income will be divvied up between you and your partner, as well as assets accrued through inheritance; you and your spouse may wish to keep ownership of these assets separate during the marriage.
Prenups facilitate the divorce process
If you do end up in divorce, you may find that the process can be difficult, lengthy, complicated, and emotionally-charged.  Anything that can help streamline the process is immensely helpful.  A strong and comprehensive prenup means it is more likely that you can resolve most or all of the issues connected to the divorce, and it's more likely that you can settle everything through mediation without having to go to trial.  The divorce will be shorter, easier, less stressful, and less expensive.  Divorces are tough enough without adding unnecessary legal hassle.
Prenups do not mean that couples do not trust each other
The stigma associated with prenups is rapidly disappearing. However, some people still worry that bringing up a prenup while engaged can ruin the magic of the relationship by suggesting that they do not trust their partner.  Prenups are simply legal documents that lay out how the parties will handle the most unfortunate possible outcome for the relationship.  It is a "break glass in case of emergency" document, not a statement that divorce is likely or even possible.  If the divorce never happens, then the prenup will not matter. 
Prenups do not make divorces more likely.  Divorces happen because of a host of other issues such as adultery, financial disputes, disagreements in child-rearing, or other marital problems.  Most people will simply forget they have one until divorce happens.  If the unfortunate event of divorce does occur, everyone involved will be happy to have set the rules back when everyone was of clear and sound mind, before the emotions associated with divorce came into the picture.
Get Help from Seasoned, Talented and Effective Claremont Prenuptial Agreement Attorneys
For experienced and knowledgeable legal help with a California family law matter or Los Angeles area divorce, contact the Claremont offices of Blasser Law at 877-927-2181.